Client Case Studies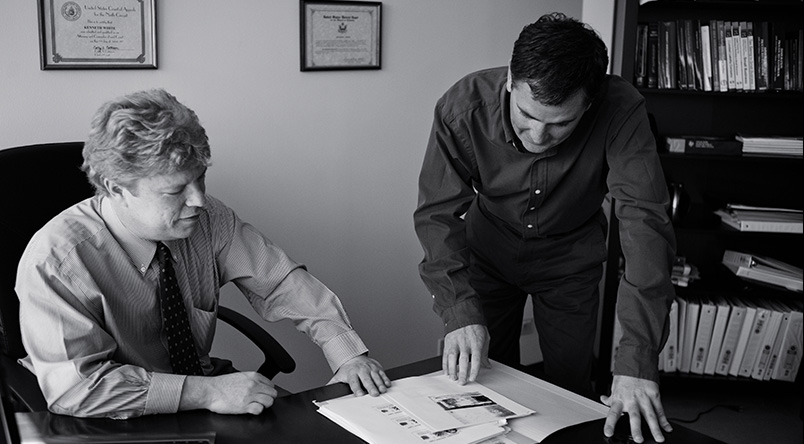 Below we have summarized some of the EB-5 cases in which we were able to assist clients. Over the course of more than 25 years, we have worked with EB-5 clients from Russia, China, India, Ukraine, Kazakhstan, Austria, Germany, Canada, South Africa, Armenia, Brazil, Ireland, and Cyprus. In fact, we were involved in some of the first EB-5 cases from Russia in the mid- to late-1990s. The cases highlight not just EB-5 issues, but other visa and immigration problems that can arise during the and after the EB-5 process. They highlight the need to retain an EB-5 lawyer who has wide-ranging immigration expertise. Remember, in most EB-5 cases it is the consular officer who will make the final decision and our experience in resolving such issues is longstanding. For non-EB-5 cases in which we assisted clients on a wide range of visa and immigration matters, see the Case Studies sections of our websites www.bridgewest.com and www.visarefusal.com
Case of S.S.
S. was a banker in his home country. But tired of the corruption and crime, he decided to invest in the EB-5 program. His income was transparent, but because of his usage of numerous bank, savings, and investment accounts, tracing the path of funds was an arduous task, leading to a petition containing several hundred pages. Because of S's desire to have his children go to US schools while waiting for the EB-5 visa, we helped him with their student visa applications. During the USCIS review process and suspension of the EB-5 Regional Center program, the developer paid back the loan, and it became necessary to redeploy the investment, i.e., because the EB-5 investment must be continued until 2 years after becoming a permanent resident, the EB-5 investment cannot be returned to the investor before then. We counseled S on the ramifications of the redeployment. USCIS approved his petition without a Request for Evidence, and the EB-5 visas were promptly issued after their interviews.
Case of Y.V.
Y was a developer of apps and sold his apps on the Apple Store. After successfully selling hundreds of thousands of apps over the course of 6 months and diligently paying his taxes, he decided to participate in the EB-5 program. He found an investment in one of the largest residential projects in the United States. All went smoothly — USCIS approved his petition without a Request for Evidence — until a consular officer decided to go on a fishing expedition, demanding 5 years of tax returns. We immediately intervened on behalf of Mr. v. , pointing to the fact that the funds were earned in a short period of time, that he had presented tax returns for that period of time, and there is no legal requirement to present the requested tax returns. The following day, Mr. V's visa was issued.
Case of S.E.
S had young US citizen children, and with a view towards raising them in the United States and having them go to school in the US, she decided to pursue EB-5. Her husband was a successful entrepreneur and so the couple had funds available for investment. We were able to gather their documentation quickly and submit her petition to USCIS. USCIS approved that petition. The visa stage of her process also went smoothly — with the consul primarily interested in the payment of any hospital bills for the birth of her children in the United States. The day after their interview, the couple received their immigrant visas.
Case of E.B.
We ran a full 7-year cycle with Ms. B. Starting with the EB-5 I-526 process, we represented Ms. B all the way through her naturalization and her minor children's US derivative citizenship: I-526, I-829, return of her investment, her N-400 naturalization application, her children's N-600 application for certificate of citizenship, and the family's US passport applications.
Case of R.A.
The expiration of the Regional Center program has wreaked havoc for many EB-5 investors. Mr. A had an approved I-526 petition, but because of the pandemic and the lapse of the program, he and his family were in limbo, unable to obtain their immigrant visas. So that his children would not lose a year in their home country, we were able to assist Mr. A in the F-1 and F-2 visa process for his wife and children while waiting for the reauthorization of the program.
Case of V.P.
We represented Mr. P in his EB-5 process. After nearly 3 years, he and his family received immigrant visas. But because of the pandemic and an elderly parent back in his home country living alone, Mr. P decided to obtain reentry permits for him and his family. We helped him complete the necessary forms before their departure. After 3 months, those applications were approved, enabling the family to remain outside the US for a protracted period of time during the pendency of their I-829 petition. Right before their extension notices expired, he and his family returned to the US and we arranged for an ADIT stamp appointment at their local USCIS office. After they received the stamps, they were able to return back to their home country to take care of Mr. P's mother.
Case of O.V.
We represented Mr. V in the I-526 and I-829 processes. He and his family obtained their conditional green cards in approximately 26 months. We then represented him in the I-829 process. But before the expiration of his green card, the project developer in which he had invested repaid the loan. Because of the sustained investment requirement — that the investment must remain sustained throughout the 2 year conditional stage of the process — it was necessary to "redeploy" his investment. We counseled Mr. V on the requirements and his options going forward. He was then able to maintain his residency status, eventually have his I-829 petition approved, and gain unconditional permanent residency for him and his family.
Case of S.L.
We represented Mr. L in his EB-5 process. After his petition was approved and the visas issued, Mr. L entered the US together with his wife on the EB-5 immigrant visas. 4 months later his children entered the US on their dependent visas. We filed the I-829 petition on behalf of Mr. L and his family. But because of the long processing times and the expiration of the green cards and extension notices, it was necessary to visit the local USCIS office for ADIT stamps to evidence their status as residents. Because of the different expiration dates, it was necessary to make appointments for the children separately from the parents. We called USCIS on behalf of the parents, received a callback 3 weeks later, appointed the date for visiting the local USCIS office, and he and his wife received the stamps. Four months later, we undertook the same process for the children. This enabled the family to have evidence of status, travel outside the US, study, and obtain new drivers licenses.
Case of N.D.
With the lapse of the EB-5 Regional Center program in 2021 and the pandemic, Mr. D encountered numerous difficulties. Fortunately for him, his I-526 petition had been approved before the lapse and he was in the United States. We filed an I-485 adjustment of status application for him and his family, as well as I-131 and I-765 applications to travel (advance parole) and work. USCIS approved those applications for travel and work, so he has been able to use those authorizations to travel back to his home country and work in the United States while waiting for the reauthorization of the EB-5 Regional Center program.
Case of K.A.
K had a successful retail business, but wanted more security for his family. He was tired of the corruption in his home country. He had three children, and did not want his immigration status dependent on him opening and operating a business in the United States. So he decided to make an investment into a Regional Center project. His petition was approved without a Request for Evidence and he moved to Virginia.