Client Case Studies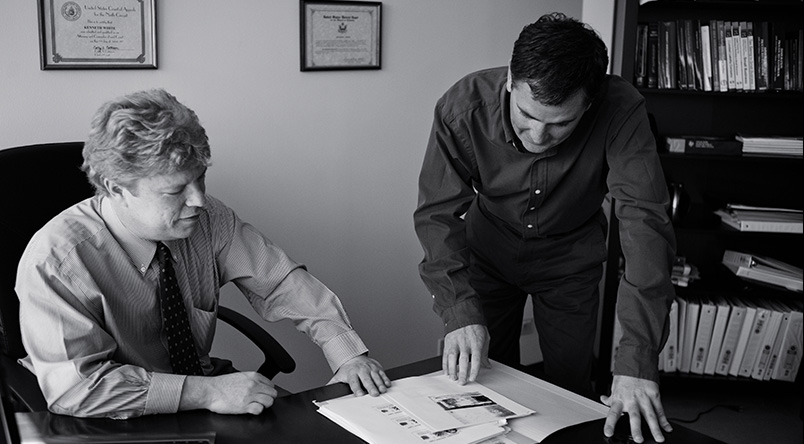 Below we have summarized some of the EB-5 cases in which we were able to assist clients. Over the course of more than 20 years, we have worked with EB-5 clients from Russia, China, India, Ukraine, Kazakhstan, Austria, Germany, Canada, South Africa, Armenia, Brazil, Ireland, and Cyprus. In fact, we were involved in some of the first EB-5 cases from Russia in the mid- to late-1990s. The cases highlight not just EB-5 issues, but other visa and immigration problems that can arise during the and after the EB-5 process. They highlight the need to retain an EB-5 lawyer who has wide-ranging immigration expertise. Remember, in most EB-5 cases it is the consular officer who will make the final decision and our experience in resolving such issues is longstanding. For non-EB-5 cases in which we assisted clients on a wide range of visa and immigration matters, see the Case Studies sections of our websites www.bridgewest.com and www.visarefusal.com
Case of D.T.
We represented D in his EB-5 process. After his petition was approved, he wanted to complete his immigration process in the US. We submitted applications to adjust his status, for employment, and advance parole. Because he needed to travel urgently, he needed to complete his biometrics and obtain advance parole before his departure. Immediately after we submitted the applications, we accompanied him to the biometrics office so that he could complete his biometrics without an invitation for biometrics (usually, this takes 4–6 weeks). We were able to convince the supervising officer of the urgency of the situation, and he was able to go through the biometrics within 30 minutes. Later that day, we accompanied him to the local USCIS office to obtain emergency advance parole. Notwithstanding the numerous rejections of the USCIS office in reviewing requests for emergency parole, we were able to convince the officer of the urgent business problems, and he was issued an emergency advance parole document.
Case of A.A.
Mr. A.'s son was aging out, and he decided that he should submit an EB-5 petition for the family. After waiting 12 months for the petition to be reviewed, Mr. A's son married and moved to London. Because Mr. A had participated in the EB-5 program primarily for the sake of his son and his son no longer planned to live in the United States, Mr. A decided to withdraw his petition. We withdrew the petition on his behalf and negotiated with the EB-5 management company. In one week, Mr. A received his $500,000 investment and administrative fee back from the EB-5 management company. We then assisted Mr. A in obtaining a new visitor visa to the United States — with full disclosure of the withdrawn EB-5 petition.
Case of I.K.
Mr. K has a very successful business in his home country. One of his two children was born in the US. But rather than immigrate with his wife and their other child, he wanted to stay in his home country. So at our initial meeting, we discussed the advantages and disadvantages, and that it would be possible to keep his B visa to continue visiting them after they immigrated. We then helped his family with the EB-5 immigration process — they received their immigrant visas in 14 months after the petition was submitted — and helped him receive a new B visa. When his mother-in-law was denied a visa to visit her daughter and two grandchildren in the United States, we helped her overcome that refusal and receive a 3-year visa. In addition, he was concerned that he would be refused a new visa because he had spent substantial time in the US after the family immigrated through EB-5. We represented him in applying for and receiving a new B visa.
Case of V.A.
Mr. A has a commercial real estate business. His son was close to aging out — 20 years old and 10 months — when we submitted his petition. Because the age of his son was frozen when the petition was submitted, his son was able to qualify to immigrate as well. They received their immigrant visas and arrived in Hawaii. With the green cards they were able to spend most of their time in their home country to look after the family business and spend part of the year in the US. We represented the family in removing their condition successfully. We also helped him obtain a mortgage at his bank in Hawaii, writing a letter of recommendation for him. 5 ½ years after making his investment, he received the return of his $500,000.
Case of M.K.
Mr. K was the financial director in the family's engineering consulting firm. He received a large salary and dividends. Looking to diversify the family's holdings and minimize the risk, they decided to start a business in the United States. But because he wasn't sure that he would be able to create 10 jobs in 2 years, he decided to invest in a Kimpton Hotel project in Philadelphia. The family received their immigrant visas and moved to Beverly Hills, where they invested in and manage a residential real estate project. We then provided legal support in removing the conditions on their green cards. Later, the three members of the family sought US citizenship with our assistance — with each of their applications taking various "turns": Mrs. K naturalized in 7 months; she then applied for her daughter's US passport, which she received in 1 week, and her Certificate of Citizenship, which she received it in less than 6 months. Mr. K on the other hand encountered delays; despite numerous inquiries, USCIS failed to take any action on his naturalization application and refused to appoint an interview for him. With our help, he sued USCIS, and within two months, an interview was appointed and he was sworn in as a US citizen.
Case of A.D.
Ms. D is a successful businesswoman, the mother of three children, one of whom had less than one year before she turned 21. We counseled her on her options for immigration, and she decided to invest in EB-5. We helped her select an appropriate regional center and prepared her immigration petition. In addition, we had to assess the eligibility of her older daughter, who had a criminal conviction.
She and her children each received their conditional green cards. Later, we helped the investor obtain a reentry permit, which enabled her to spend more time in her home country. After two years, we helped the family receive their permanent green cards and later, the return of their investment. As soon as they were eligible, we represented the three children in their naturalization processes, and they are today US citizens. Finally, we represented the mother in relinquishing her green card so that she can focus on her business in her home country, and obtaining a new US visitors visa so that she could visit her children whenever she so desired. And much to the mother's happiness, her oldest daughter married a gentleman, and we assisted him in the immigration process to the United States.
Case of E.L.
The L family received a substantial monetary gift from Mrs. L's father. With that gift, they invested the money in a Marriott Hotel project in Seattle and applied to immigrate through the EB-5 program. We represented them in this process. The process went smoothly until Mr. L, for reasons beyond his control, was unable to go through the visa interview in his home country. We managed to organize consular processing for the family in a third country. After their interviews, they received their visas within two days and flew to the United States. Later, we successfully represented them in the condition removal process. We also helped Mrs. L obtain a US passport for her baby after she gave birth in the US.
In a couple of years after the condition removal process, we prepared and filed their applications for naturalization. After USCIS failed to appoint an interview for them within a year, we filed a mandamus lawsuit. Soon thereafter, USCIS appointed an interview, and Mr. and Mrs. L because US citizens. We helped their daughter obtain a Certificate of Citizenship.
Besides immigration issues, we recommended a good, trustworthy realtor to them, and they were able to buy a beautiful house.
Case of I.K.
Mr. K, an older successful entrepreneur, was tired of corruption and problems of doing business in his home country. After 8 months he and his family received green cards and he bought a house in the US. Because his wife's mother was sick and she wanted their son to finish high school in their home country, we assisted them in obtaining reentry permits, which enabled them to stay outside the US for a prolonged period. After we helped the family remove the conditions, we helped I and his son become US citizens through the naturalization process.
Case of A.S.
Mr. S bought a house in his home country for $300,000, renovated and expanded it, and two years later sold it for more than $900,000. With the profits from the transaction, he invested in the Los Angeles Regional Center, which loaned money to Time Warner. On this basis, he was able to secure for himself, his wife and young son green cards, and they moved to Hawaii. Two years later, we helped the family remove the conditions on their green cards. 5 years after he made his investment, he received the return of his $500,000. We also represented him in his naturalization process. When questions arose regarding his residency in the United States, we were able to work together with his accountant to address those questions, allowing for USCIS to grant him citizenship.
Case of M.D.
Mr. D was a "stranger" in his home country: he was of a different ethnicity than the majority population and experienced substantial discrimination and harassment as a result. So when he earned millions after selling his retail business, he approached our firm in order to explore the immigration options available. Because he did not know English, did not have any friends or relatives in the US, and had no experience operating a business outside of his home country, he decided against opening or purchasing an existing business in the US, and decided to invest in a Regional Center in the EB-5 program. Within nine months, we helped him and his two business partners immigrate to the US through EB-5. Today, they and their families are US citizens. We continue to provide consultations for him; for example, we helped obtain a visa for his mother and acquainted him with an experienced tax advisor.