Client Case Studies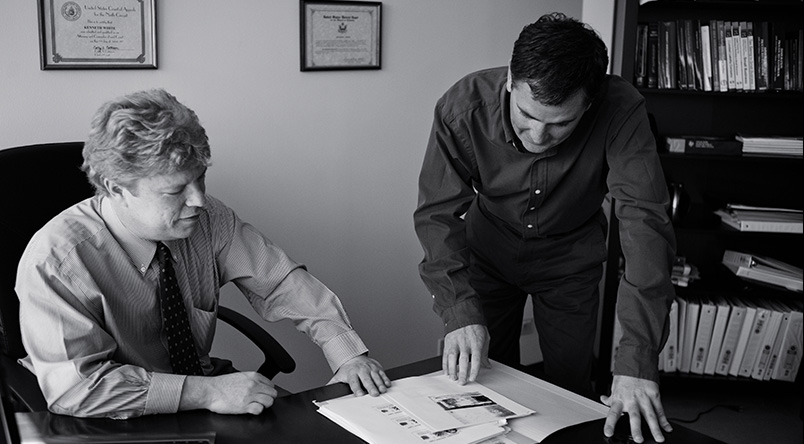 Below we have summarized some of the EB-5 cases in which we were able to assist clients. Over the course of more than 20 years, we have worked with EB-5 clients from Russia, China, India, Ukraine, Kazakhstan, Austria, Germany, Canada, South Africa, Armenia, Brazil, Ireland, and Cyprus. In fact, we were involved in some of the first EB-5 cases from Russia in the mid- to late-1990s. The cases highlight not just EB-5 issues, but other visa and immigration problems that can arise during the and after the EB-5 process. They highlight the need to retain an EB-5 lawyer who has wide-ranging immigration assistance. For non-EB-5 cases in which we assisted clients on a wide range of visa and immigration matters, see the Case Studies sections of our websites www.bridgewest.com and www.visarefusal.com
Case of M.K.
Mr. K was the financial director in the family's engineering consulting firm. He received a large salary and dividends. Looking to diversify the family's holdings and minimize the risk, they decided to start a business in the United States. But because he wasn't sure that he would be able to create 10 jobs in 2 years, he decided to invest in a Kimpton Hotel project in Philadelphia. The family received their immigrant visas and moved to Beverly Hills, where they invested in and manage a residential real estate project. We then provided legal support in removing the conditions on their green cards. Later, the three members of the family sought US citizenship with our assistance — with each of their applications taking various "turns": Mrs. K naturalized in 7 months; she then applied for her daughter's US passport, which she received in 1 week, and her Certificate of Citizenship, which she received it in less than 6 months. Mr. K on the other hand encountered delays; despite numerous inquiries, USCIS failed to take any action on his application and refused to appoint an interview for him. With our help, he sued USCIS, and within two months, an interview was appointed and he was sworn in as a US citizen.
Case of A.D.
Ms. D is a successful businesswoman, the mother of three children, one of whom had less than one year before she turned 21. We counseled her on her options for immigration, and she decided to invest in EB-5. We helped her select an appropriate regional center and prepared her immigration petition. In addition, we had to assess the eligibility of her older daughter, who had a criminal conviction.
She and her children each received their conditional green cards. Later, we helped the investor obtain a reentry permit, which enabled her to spend more time in her home country. After two years, we helped the family receive their permanent green cards and later, the return of their investment. As soon as they were eligible, we represented the three children in their naturalization processes, and they are today US citizens. Finally, we represented the mother in relinquishing her green card so that she can focus on her business in her home country, and obtaining a new US visitors visa so that she could visit her children whenever she so desired. And much to the mother's happiness, her oldest daughter married a gentleman, and we assisted him in the immigration process to the United States.
Case of E.L.
The L family received a substantial monetary gift from Mrs. L's father. With that gift, they invested the money in a Marriott Hotel project in Seattle and applied to immigrate through the EB-5 program. We represented them in this process. The process went smoothly until Mr. L, for reasons beyond his control, was unable to go through the visa interview in his home country. We managed to organize consular processing for the family in a third country. After their interviews, they received their visas within two days and flew to the United States. Later, we successfully represented them in the condition removal process. We also helped Mrs. L obtain a US passport for her baby after she gave birth in the US.
In a couple of years after the condition removal process, we prepared and filed their applications for naturalization. After USCIS failed to appoint an interview for them within a year, we filed a mandamus lawsuit. Soon thereafter, USCIS appointed an interview, and Mr. and Mrs. L because US citizens. We helped their daughter obtain a Certificate of Citizenship.
Besides immigration issues, we recommended a good, trustworthy realtor to them, and they were able to buy a beautiful house.
Case of I.K.
Mr. K, an older successful entrepreneur, was tired of corruption and problems of doing business in his home country. After 8 months he and his family received green cards and he bought a house in the US. Because his wife's mother was sick and she wanted their son to finish high school in their home country, we assisted them in obtaining reentry permits, which enabled them to stay outside the US for a prolonged period. After we helped the family remove the conditions, we helped I and his son become US citizens through the naturalization process.
Case of A.S.
Mr. S bought a house in his home country for $300,000, renovated and expanded it, and two years later sold it for more than $900,000. With the profits from the transaction, he invested in the Los Angeles Regional Center, which loaned money to Time Warner. On this basis, he was able to secure for himself, his wife and young son green cards, and they moved to Hawaii. Two years later, we helped the family remove the conditions on their green cards. 5 years after he made his investment, he received the return of his $500,000.
Case of M.D.
Mr. D was a "stranger" in his home country: he was of a different ethnicity than the majority population and experienced substantial discrimination and harassment as a result. So when he earned millions after selling his retail business, he approached our firm in order to explore the immigration options available. Because he did not know English, did not have any friends or relatives in the US, and had no experience operating a business outside of his home country, he decided against opening or purchasing an existing business in the US, and decided to invest in a Regional Center in the EB-5 program. Within nine months, we helped him and his two business partners immigrate to the US through EB-5. Today, they and their families are US citizens. We continue to provide consultations for him; for example, we helped obtain a visa for his mother and acquainted him with an experienced tax advisor.
Case of A.V.
A did not want to immigrate, but wanted his wife and three children to move to the US. His last child was born in the US, and so was a US citizen. A had a complicated business structure, with numerous entities making up his group of companies. He also preferred to stay "in the shadows", so it was difficult to connect him to the earnings of the businesses. Further complicating matters, he had earned his money over the course of 15 years — buying and selling real estate and earning profits from his business. After receiving a Request for Evidence from USCIS, we submitted a compilation of more than 100 documents, dating back to the 1990s. His wife's EB-5 case was approved, and A now visits his family in the US on a visitors visa.
Case of N.V.
N's mother wanted to visit her and her grandchildren. We had helped them immigrate through the EB-5 program. Thinking that it would be easy to obtain a visa, N's mother applied for a visa and was denied. The consul thought that she would remain in the United States. We were then able to intercede, providing evidence of her substantial ties to her home country: her marriage, property ownership, stable job and previous ties. Shortly thereafter, she received a visa.
Case of M.Z.
M had a problem with his local Department of Motor Vehicles. During his condition removal process, he needed to extend his drivers license but his DMV would not recognize his status. We sent a letter to the Director of the DMV, and within 24 hours M was able to renew his drivers license.
Case of M.P.
Because of the increasing processing times for the EB-5 condition removal process, we have had to provide assistance to clients in obtaining evidence of their continued permanent resident status. In the case of M, she was planning to travel outside the US around the time that her green card extension notice was going to expire. Before her trip, we scheduled a time for her to attend her local USCIS office and prepared an accompanying letter for her to present. After she presented the cover letter to the USCIS officer, he placed a stamp in M's passport with a validity period of one year. She was able to go on her trip and not worry about whether she would be allowed on the plane back to the United States.